THE WONDERFUL WIZARDS OF ART:
AN ILLUSTRATED ODYSSEY THROUGH THE LAND OF OZ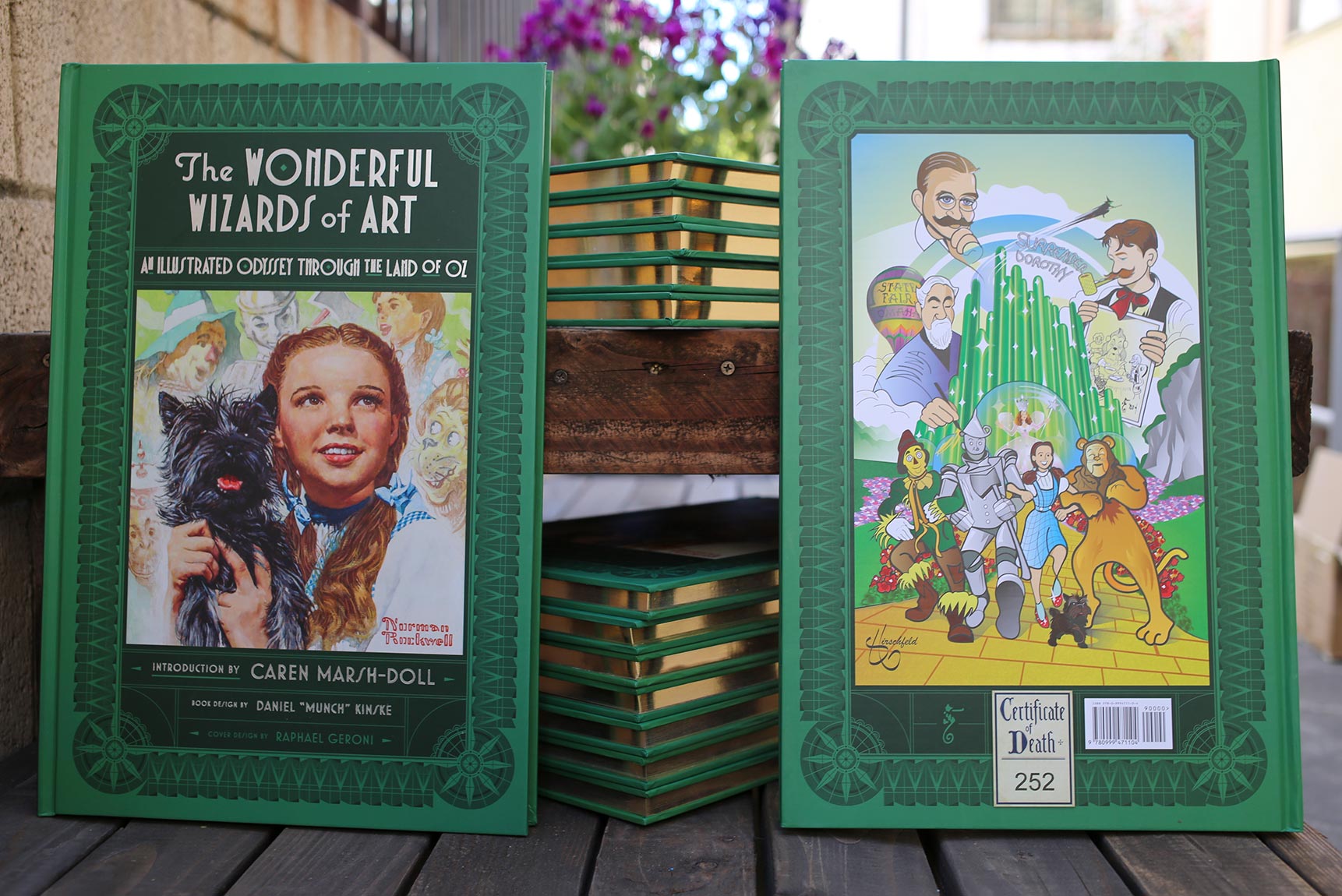 This coffee table art book is 11" wide by 17" tall and is .665" thick with 150 pages inside. All copies are numbered and signed. There are 515 numbered (on the back cover "Certificate of Death" area) copies and all have pre-signed endpapers that were uncut and signed by Caren over the periods of her 99 th and 100 th birthdays and are all factory machined in the book as part of the first two endpapers. Caren signed in red permanent fast-drying archival ink. Initially meant to herald in the 80 th anniversary of the film, but the pandemic pushed the publishing date off quite a bit. Some copies are consigned to the famous Los Angeles brick and mortar book store, Book Soup, but most of them are available on this website.
Remaining copies are now being sold exclusively by the newly opened Academy Museum (academymuseumstore.org.) Thanks to everyone for your patronage and support. And it's also a part of the Academy Museum Store's first Holiday Gift Guide! Get yours now.

Art Ducko publisher Daniel Kinske has done it again. His latest book, The Wonderful Wizards of Art, is drop-dead gorgeous. This beautifully designed oversized tome is stuffed with a staggering amount of rare and stunning Oz imagery and memorabilia, the majority of which I never knew existed (it includes not one, but two portraits of W.W. Denslow by the legendary Saturday Evening Post illustrator J. C. Leyendecker). That alone says a lot, as I'm a pretty fanatical Oz collector. Wizard of Oz fans: this is the Oz book that's been waiting for you that you never knew existed. Thank you, Mr. Kinske, for another spectacular labor of love on your part. You benefit us all when you create publications as fine as this one is!
The Wonderful Wizards of Art is a beautifully designed huge book, marvelously overflowing with little seen material from the OZ universe including page after page of rarely or never seen material from W.W. Denslow, the first and most important creator of the visual looks of L. Frank Baum's OZ world.
What basically boundless joy it is to see what Caren Marsh-Doll and Dan Kinske have achieved. It's no small task to accomplish something new, monumental, and beautiful in terms of Oz-related publications, but they've managed it in a major manner. Caren's reminiscences about her early career – and her recollections about her own personal road to Oz – are more detailed, revelatory, and charming than ever before. She writes from a compassionate, comprehensive heart that warrants and warms this elaborate showcase. In terms of art, collectibles, and "visual memoir," the book itself has something for virtually everybody. The MGM Wizard of Oz fans will find a mountain of previously unpublished material, as will Baum, Denslow, and Neill partisans, theater buffs, and those who revere the work of contemporary cartoonists. Dan Kinske has amassed 120 years of carefully culled Oz history (some Baum and Denslow artifacts are even older), and he's done it in a manner no other author/designer has as yet touched. Such appreciation extends to the scope of his project; its color rarities; and the actual size and clarity of reproductions of countless items. Additionally, most of these are scarce, privately owned, or completely new to public view. It says everything about Kinske's personal and professional acumen that he has been trusted by so many diverse people and archives — and allowed to share these treasures with a greater audience. That audience should, one and all, be in awe, and any Oz, Garland, Baum, or pop culture devotee will cherish this superlative assemblage. According to Princess Ozma in Tik-Tok of Oz (Baum's eighth title in the series), The Land of Oz is love. So is this book.